Home > Artists > Painters > Luke MacGilvray
Luke MacGilvray
Painter and engineer. Cofounder of Atomic Cafe in Hamtramck.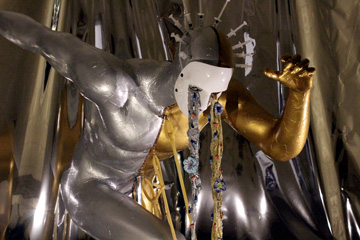 Duality of Fact by Luke MacGilvray.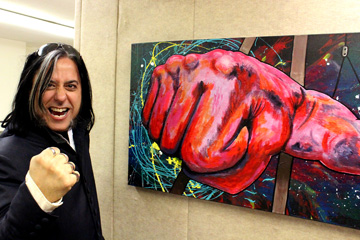 Luke's take on the Joe Louis fist sculpture in downtown Detroit.
Upcoming exhibitions
Working title: "Blue Harvest", 2020, gallery TBA.
Plus various other plans.
Past exhibitions
The Empire Starts Back at Atomic Cafe. November 9, 2019.
In the Jail Cell at Hatch Art. September 14 – 28, 2019.
Wicked at the Atomic Cafe. November 3, 2018.
Entropy at Oloman Cafe in Hamtramck. August 25, 2018.
A sculpture in the Jail Cell at Hatch Art. July 8 – 29, 2017.
No More Heroes at the Detroit Public Library's Galleria. February 28, 2017 – April 22, 2017.
Frame.ography, with Sanda Cook, at the Level One Bank Community Art Gallery. November 7, 2016 – December 19, 2016.
Entwine Deux, with Sanda Cook, at the Downriver Council for the Arts. November 4 – 23, 2016.
...many more...
External links
News
Reviews
PLACEHOLDER FOR REVIEWS