Home > Artists > Painters > Timothy Orikri
Timothy Orikri
Painter, one of the few to have exhibited at the Detroit Public Library's Main Library. The son of a Christian minister, Timothy is very concerned in his artwork with spirituality and music.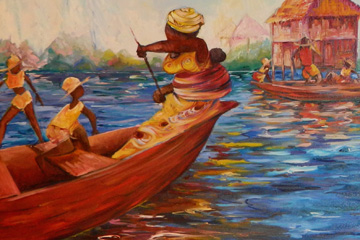 Detail of a 2015 painting by Timothy Orikri.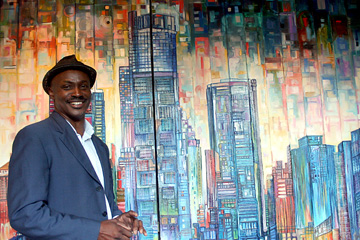 Timothy Orikri at Start Gallery in 2012. Photo by Alonso del Arte.
Upcoming exhibitions
Various plans.
Past exhibitions
Timothy Orikri has exhibited extensively nationally and internationally. Even limiting it to his exhibits in Michigan, it's a very long listing which we haven't yet had time to review and format. For now let's at least mention his 2012 exhibit at Start Gallery. That same year he also exhibited at the Carr Center and at the Detroit Public Library.
External links
News
Reviews
PLACEHOLDER FOR REVIEWS