Home > Lists > List of Red Bull artists
List of Red Bull artists
Alphabetical listing
Show chronological listing
Kristen Adamczyk (Cycle 4)
Dan Armand (Round 3)
Bryan Baker (Round 2)
Christopher Batten (Cycle 5)
Corey Birdwell (Round 2)
James "Jimbo" Braddock (Cycle 10)
Austin Brady (Cycle 8)
Michael Burdick (Cycle 6)
Dominika Claudia (Cycle 10)
James Collins (Round 2)
Katie Craig (Cycle 7)
Chad Davis (Cycle 8)
Peter DeAngelos ("Round 1")
Freddy Diaz (Cycle 11)
Rob DiMaria (Round 3)
Ray Domzalski (Round 2)
Joe Ferry (Cycle 10)
Laura Finlay (Cycle 11)
Brent Forrest (Cycle 10)
Edward John Charles Foster (Round 3)
Joshua Gaudette (Cycle 6)
Parisa Ghaderi (Cycle 10)
Brach Goodman (Cycle 9)
Matt Gordon ("Round 1")
Kelly Guillory (Cycle 10)
William Harris (Cycle 4)
Karianne Hollowell (Cycle 9)
Sydney James (Cycle 6)
Nick Jaskey (Cycle 7)
Delvona Johnson (Round 2)
Paul Johnson (Cycle 11)
Franklin Jonas ("Round 1")
Jesse Kassel (Cycle 5)
Shaina Kasztelan (Cycle 9)
Desiree Kelly (Cycle 5)
Brian Lacey (Cycle 5)
Camille LaMontagne (Cycle 5)
Lamar Landers (Cycle 7)
James Oscar Lee (Cycle 6)
Tage Lee (Cycle 6)
Tony Lee (Cycle 8)
Tiff Massey (Cycle 8)
Antoine McDowell (Round 3)
Steven McShane (Cycle 5)
Zak Meers (Cycle 7)
Keri Mortimer
Tadd Mullinix (Cycle 6)
Ash Nowak (Cycle 11)
Craig Paul Nowak (Round 3)
Ndubisi Okoye (Cycle 11)
Marko Pavlovski (Cycle 11)
Paolo Pedini (Cycle 8)
Nick Pizana (Cycle 9)
Lisa Poszywak (Cycle 4)
Tony Rave (Cycle 11)
Jeff Risk ("Round 1")
Kela Robinson (Round 3)
Rashaun Rucker (Cycle 8)
Ellen Rutt (Cycle 4)
Ben Saginaw ("Round 1")
Mark Sarmel ("Round 1")
Tylonn Sawyer (Cycle 4)
Paula Schubatis (Cycle 6)
Lindy Shewbridge (Cycle 4)
Bethany Shorb (Cycle 7)
Greg Siemasz (Cycle 4)
William Singer (Cycle 11)
Kevin Skinner (Cycle 4)
Kobie Soliman (Round 2)
Fatima Sow (Cycle 11)
Michelle Tanguay (Round 2)
Vaughn Taormina (Round 3)
Dessislava Tervieza (Cycle 6)
Colin Tury (Cycle 9)
Dino Valdez (Cycle 9)
Elysia Vandenbussche (Cycle 5)
Miles Rene Vankeersblick (Cycle 11)
Allison Vince (Round 2)
Crystal Vinson ("Round 1")
Carolyn Weber (Cycle 5)
Ashley Williams (Round 3)
Mary Williams (Cycle 11)
Paula Zammit (Cycle 7)
Chronological listing
Show alphabetical listing
"Round 1"
The very first group chosen, the one which inaugurated the House on May 24, 2012.
Peter DeAngelos
Matt Gordon
Franklin Jonas
Keri Mortimer
Jeff Risk
Ben Saginaw
Mark Sarmel
Crystal Vinson
Round 2
This one opened on August 24, 2012.
Bryan Baker
Corey Birdwell
Ray Domzalski
Delvona Johnson
Kobie Soliman
Allison Vince
Round 3
It couldn't be helped that this one opened on December 14, 2012, the same day as the worst school shooting in U. S. history to date.
Dan Armand
Rob DiMaria
Edward John Charles Foster
Antoine McDowell
Kela Robinson
Vaughn Taormina
Ashley Williams
Cycle 4
April 12, 2013
Kristen Adamczyk
Ellen Rutt
Greg Siemasz
Kevin Skinner
Cycle 5
August 9, 2013
Jesse Kassel
Desiree Kelly
Brian Lacey
Camille LaMontagne
Steven McShane
Elysia Vandenbussche
Carolyn Weber
Cycle 6
November 15, 2013
Michael Burdick
Joshua Gaudette
James Oscar Lee
Tage Lee
Tadd Mullinix
Paula Schubatis
Dessislava Tervieza
Cycle 7
The April 11, 2014 group consisted of two fewer artists than previous cycles.
Katie Craig
Nick Jaskey
Lamar Landers
Zak Meers
Bethany Shorb
Cycle 8
August 8, 2014
Chad Davis
Tony Lee
Paolo Pedini
Cycle 9
November 14, 2014
Brach Goodman
Karianne Hollowell
Shaina Kasztelan
Nick Pizana
Colin Tury
Dino Valdez
Cycle 10
The April 24, 2015 group had moved into their studios back in January, but their exhibition time was cut short for the "alumni" exhibition which opened the following month.
James "Jimbo" Braddock
Dominika Claudia
Joe Ferry
Brent Forrest
Parisa Ghaderi
Cycle 11
As of August 5, 2015, it is possible to piece together a list of the Cycle 11 artists from Facebook postings, but this list has not been verified.
Laura Finlay
Paul Johnson
Ash Nowak
Marko Pavlovski
Tony Rave
William Singer
Miles Rene Vankeersblick
Mary Williams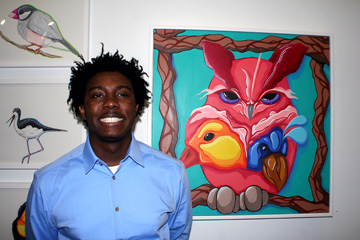 Sponsored by the Red Bull company, the Red Bull House of Art program is an excellent opportunity for young artists in their 20s who are very talented and already quite accomplished but still too young for an honest shot at the Kresge Fellowship.
The artists selected for the Red Bull program get a free studio for three to four months and free art supplies. When the time comes to exhibit their work, they are charged 0% commission on sales.