Home > Artists > Painters > Sydney G. James
Sydney G. James
Painter, muralist.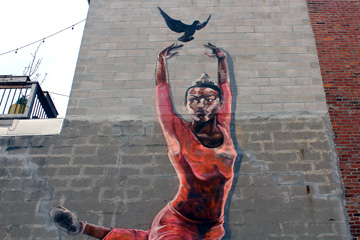 Detail of a 2016 mural in Detroit by Sydney G. James.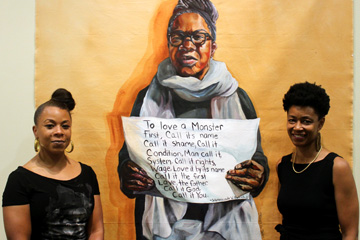 Sydney G. James (left) and Scheherazade W. Parrish pose in front of a painting by the former in­cor­po­rating a poem by the latter. Photo by Alonso del Arte.
Upcoming exhibitions
Plus various other plans.
Past exhibitions
With Rashaun Rucker, Tylonn Sawyer and Scheherazade Washington at Detroit Artists Market. June 25, 2021 — July 24, 2021.
Hard / Soft at Galerie Camille. March 19, 2021 — April 17, 2021.
Watch Me Work, at the University of Michigan Institute for the Humanities in Ann Arbor. November 9, 2020 — December 18, 2020. This exhibition was installed so that all the artwork was visible from the street, without having to go into the gallery, because of the coronavirus pandemic.
Watch Me Work, at M Contemporary Art. October 28, 2020 — November 1, 2020.
Sit Down Somewhere, at Playground Detroit. October 12, 2019 — November 9, 2019.
Spark, curated by Ann Smith, at 333 Midland. July 17 — July 27, 2019.
perSIStence, at Collected Detroit. May 3, 2019 — June 7, 2019.
Symbiosis, curated by Melissa Jones, at Detroit Artists Market. September 7, 2018 — October 13, 2018.
Exhibit at the Max M. & Marjorie S. Fisher Music Center. Opened September 26 and slated run to October 6.
Bent but Unbroken, curated by Anna Schaap, at the Charles H. Wright Museum of African American History, 315 E. Warren Avenue, Detroit, Michigan. Opened July 28 and slated to run to October 29.
The "Alumni" Exhibition, featuring one piece each from almost every artist who's gone through the Red Bull House of Art program. May 21, 2015 — September 7, 2015.
Red Bull House of Art, Cycle 6. November 13, 2015 — ??? ??, 2016.
...and several more going back to 2010...
External links
News
PLACEHOLDER FOR NEWS
Reviews
Dennis Alan Nawrocki, "68 Sydney G. James", Essay'd, May 9, 2017. "As a painter, she produced a number of portraits of family and acquaintances, including a likeness of her grandfather, American Dream? (2012), and The Purge (2014), from a series entitled "House of Mirrors." Both imply something of the anxiety of their protagonists' predicaments; in the case of the former, the shadowed visage suggests the recognition of a dream deferred, ironically limned in an all-American palette of red, white, and blue. Many of the "House of Mirrors" images likewise focus on close up studies of intimate, unguarded moments. Executed on medicine cabinet mirrors, a setting especially conducive to one-on-one probings of the self, ... Implicit vulnerability also emerges in the installational "Appropriated Not Appreciated" series of 2016."