Home > Artists > Painters > Judy Bowman
Judy Bowman
Painter, educator, former high school principal.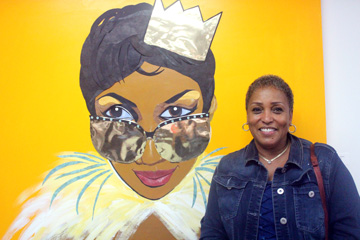 Judy Bowman's portrait of Aretha Franklin which was exhibited at Collected Detroit.
Current exhibitions
Small Works 2020 at Marygrove College, in the Liberal Arts Building, 8425 W. McNichols, Detroit. Opened January 16.
Upcoming exhibitions
Glimpse: 40 Years of Fine Prints at the Birmingham Bloomfield Art Center. Slated to open March 6, with a reception from 6:00 p.m. to 8:00 p.m., and run to April 16.
Plus various other plans.
Past exhibitions
I didn't start keeping track until 2019. I do want to compile a listing that goes back a little farther.
External links
News
PLACEHOLDER FOR NEWS
Reviews