Home > Artists > Sculptors > Doug Cannell
Doug Cannell
Doug Cannell earned a BFA degree from Wayne State University in 1980. He also studied art at the College for Creative Studies, and now works from his studio at 333 Midland in in Highland Park, Michigan.
Doug began working predominantly in clay, but in the early 1990's he began using steel as the basis for his work. His sculptures are often made of rusted, reclaimed steel, his work is punctuated with other materials like shiny stainless steel, wood, clay, copper, encaustic and rubber.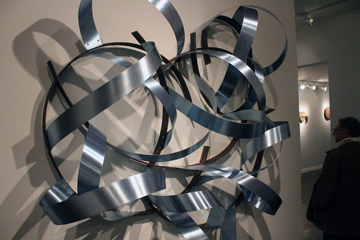 One of Doug's sculptures on exhibition at Galerie Camille.
Upcoming exhibitions
A Tree is a Wild Thing at Hatch Art. Slated to open Feburary 6 and run to February 27. Guests are required to wear masks and the number of guests will be capped to a fraction of normal maximum occupancy.
Plus various other plans.
Past exhibitions
Plus One, with Cydney Camp and others, at 333 Midland. October 29, 2020 — November 28, 2020.
Big and Abstract at the Norwest Gallery of Art. July 31, 2020 — August 31, 2020.
The Works at 333 Midland. December 7, 2019 — January 5, 2020.
Spark, curated by Ann Smith, at 333 Midland. July 17 — 27, 2019.
Approaching Imperfect, with Elizabeth Youngblood at Galerie Camille. February 8 — 22, 2019.
Michigan Annual XLV at the Anton Art Center. January 27, 2018 — February 23, 2018.
It's a long list going back to 1993, includes exhibitions at the Crooked Tree Arts Center and Detroit Artists Market, as well as galleries outside Michigan.
External links
News
Reviews
PLACEHOLDER FOR REVIEWS