Home > Artists > Painters > Elizabeth Youngblood
Home > Artists > Sculptors > Elizabeth Youngblood
Elizabeth Youngblood
Sculptor, designer, educator. Bachelors of Fine Art from the University of Michigan and an Masters of Fine Art from the Cranbrook Academy of Art. Associate professor at the University of Michigan. Adjunct professor at Lawrence Technological University, Michigan State University and the College for Creative Studies.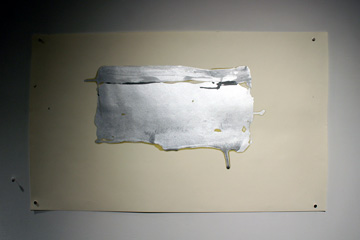 One of Elizabeth's paintings on exhibition at Galerie Camille.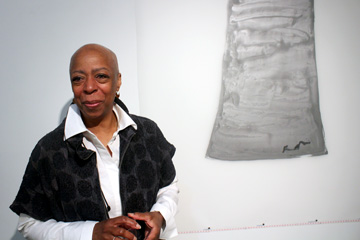 Elizabeth with one of her paintings at Galerie Camille. Photo by Alonso del Arte.
Upcoming exhibitions
Room Tone at M Contemporary Art. Slated to open February 27, with a reception from 12:00 p.m. to 6:00 p.m., and run to March 20. Guests must wear masks, but no RSVP needed.
Plus various other plans.
Past exhibitions
Salon at David Klein Gallery (Detroit location). September 14, 2020 — November 2, 2020.
Spark, curated by Ann Smith, at 333 Midland. July 17, 2019 — July 27, 2019.
New Knowns, at the Birmingham Bloomfield Art Center. May 3, 2019 — June 6, 2019.
Drawings group exhibit at M Contemporary Art. March 22, 2019 — April 13, 2019.
Approaching Imperfect, with Doug Cannell at Galerie Camille. February 8 — 22, 2019.
The Smell of Lint and Frost at the University of Michigan RC Art Gallery East Quadrangle in Ann Arbor. January 16, 2019 — February 14, 2019.
Edition 18 at Simone DeSousa Gallery. November 30, 2018 — December 23, 2018.
Pulp: An Exhibition of Works on Paper at M Contemporary Art. January 26, 2018 — February 7, 2018.
Round in Circles, curated by Jennifer Junkermeier, at the N'Namdi Center for Contemporary Art. June 16, 2017 — September 2, 2017.
Now and Then: Artists Contemplate the Summer of 1967 at Detroit Artists Market. April 28, 2017 — May 27, 2017.
With Carla Anderson at Galerie Camille. April 7 — 27, 2017.
With Janet Hamrick and Meighan Jackson at Sisson Art Gallery (Henry Ford College). January 17, 2017 — March 16, 2017.
Righted, a solo show at 9338 Campau. September 3 — 24, 2016.
Cups, curated by Alice V. Schneider, at Detroit Artists Market. June 10, 2016 — July 16, 2016.
The Scent of Rain on Dry Earth at Detroit Artists Market. January 15, 2016 — February 13, 2016.
Solo show in the Rose Gallery of the N'Namdi Center for Contemporary Art. November 7, 2014 — January 31, 2015.
External links
News
PLACEHOLDER FOR NEWS
Reviews
Ron Scott, "Anderson & Youngblood @ Galerie Camille", Detroit Art Review, April 17, 2017. "Elizabeth Youngblood's work is multi dimensional, a mixture of three-dimensional objects made from ceramic and wire, and a collection of black and white drawings on paper. The contrast between the porcelain bars and the strands of thin black wire, as in #6 Flat Horizontal, provide an interesting play between material and as a relief, the shadows from the light adds to the dimension. ... It's always a challenge to decide how large to make a three dimensional piece of work. If I were to dare to offer a constructive idea for her work, it would be to pay more attention to scale, pretty much across the board."
Steve Panton, "18 Elizabeth Youngblood", Essay'd, April 20, 2015. "Elizabeth Youngblood's work combines great personality and remarkable restraint. Typically starting from a monochrome palette and the repeated graphical element of the line, she has utilized her dexterity with fiber, wire, ceramics, drawing, and paper to quietly produce a visually coherent body of work that has continued to evolve over a period of several decades."