Home > Artists > Painters > Emilie Beadle
Emilie Beadle
Palette knife artist. In addition to gallery exhibits, Emilie also has public art installations throughout the Midwest, many of them in Michigan. Now residing in Canada, she travels frequently, sometimes visiting Michigan.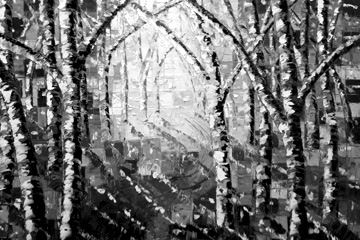 Tree Tunnel by Emilie Beadle.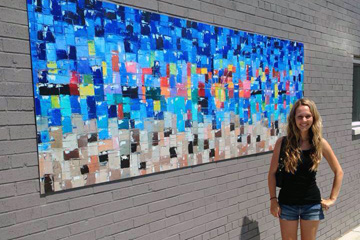 Emilie with her abstract beach sunrise, a public art installation in Royal Oak. Photo by Lindsay Carlman.
Current exhibition
Magnitude of Color at in Beaudry Gallery in Dallas, Texas. Opened March 31 and slated to run to May 12.
Upcoming exhibitions
Emilie will also be leading a painting workshop at the Downriver Arts Guild on June 2 and 3, and participate in a gallery talk at the Surrey Art Gallery in Canada on June 7.
Past exhibitions
DADA Fall Art Walk 2017 at Beaudry Gallery in Dallas, Texas. September 9, 2017 – October 7, 2017.
Interpretations II: Growing Old on the Street at the Village Theater at Cherry Hill, 50400 Cherry Hill Road, Canton, Michigan. July 6 – 30, 2017.
Seven at River's Edge Gallery. June 16, 2017 – July 22, 2017.
Domain Art & Design at Galerie Camille. June 15, 2017 – July 15, 2017.
Art & Soul of Oakland exhibit at Galerie Camille. April 29, 2017.
Hatchback 11 at Hatch Art. April 1 – 29, 2017.
Beautiful Brushwork at Pittmann-Puckett Art Gallery. March 2, 2017 – April 1, 2017.
Interpretations II: Growing Old on the Street at Downriver Council for the Arts. January 27, 2017 – February 10, 2017.
What is the City... But the People, with Dave Hardin at The Loft Fine Art in Mt. Clemens. January 21, 2017 – February 4, 2017.
Holiday group show at Galerie Camille. December 16, 2016 – January 14, 2017.
Greetings from Detroit: Wish You Were Here at Detroit Artists Market. July 29, 2016 – August 27, 2016.
Solo show at Beverly Shores Gallery. May 1, 2016 – June 4, 2016.
Love Letters at Gallery Fifty. February 12, 2016 – March 31, 2016.
Vandalized Minds: The Future of Detroit at the Phoenix Cafe Art Gallery, Hazel Park. 2015.
Fall Festival exhibit at the Downriver Council for the Arts. 2015.
Group show at Start Gallery. October 10, 2015.
Let's Pretend at River's Edge Gallery. June 19, 2015 – July 24, 2015.
Zusammenarbeit at River's Edge Gallery. March 20, 2015 – April 17, 2015.
...a few more...
I should also mention that she did a palette knife painting workshop at the Museum of Contemporary Art Detroit on March 19, 2017.
External links
News
PLACEHOLDER FOR NEWS
Reviews
And from Lori Waxman, the 60 words a minute critic:
If Camille Pissarro and Hans Hofmann got together and had a child in the age of pixels and global shipping, and that child grew up to make paintings, they might look something like the canvases of Beadle. Beadle uses a palette knife to apply thick squares of colorful oil in imperfect grids to form scenes that disappear into single point perspectives and sometimes feature elegant birch trees. Her paintings glitter and move, like bustling city streets and countrysides with weather. Their surfaces bear close looking, each individual square a unique space of layered, blended color, each tree branch a study in how the curve of paint application can equal an optical curve. The correspondences Beadle conjures through her unique style — pixels, cargo containers, mosaics, color swatches — are potent enough to take her paintings far beyond that one path and its attendant forest.