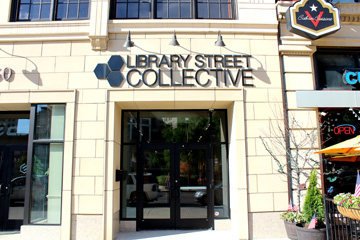 The gallery's Library Street entrance.
Home > Galleries > Detroit > Library Street Collective
Library Street Collective
1260 Library
Detroit MI 48226
I'm not sure at what point Library Street Collective acquired a Los Angeles location. I won't really be tracking that one.
Originally known as Long-Sharp Curis, this gallery is still partly owned by Anthony and J. J. Curis. Rhonda Long-Sharp's stake was at one time held by Matt Eaton. And it's still practically across the street from the Skillman Branch of the Detroit Public Library.
The new name, revealed in 2012, is clunky or clever, depending on your opinion, but it certainly made transitioning the gallery's social media presence easier, as it preserved the gallery's acronym, LSC. Along with the new name, the gallery adopted a 3-hexagon logo.
As before it mostly deals in blue chip artists, but skewing younger, and local artists who have gone through the Red Bull House of Art program have a chance at LSC. In addition to the original gallery space indoors, the gallery now also boasts an outdoor gallery in the alley with ready access to the Z parking structure.
As with Red Bull, arriving early to openings is a very good idea. Openings are typically on Saturdays, starting at 6:00 or 7:00 p.m. Gallery hours are Wednesdays through Saturdays from 12:00 p.m. to 6:00 p.m.
On October 15, 2021, the gallery announced that they're representing the artwork of the estate of Charles McGee. "Since his passing in early 2021, the gallery has worked alongside his daughter, Lyndsay McGee, to assemble a collection of his remaining works," according to the announcement from the gallery.
Current exhibition
Lightworks, Phillip K. Smith III. Opened May 14 and slated to run to June 22.
Upcoming exhibitions
Not announced yet.
Past exhibitions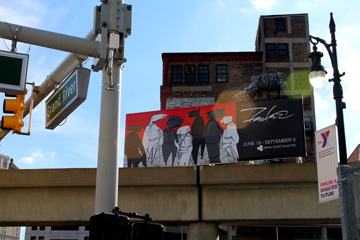 A Library Street Collective billboard, shown here a couple of weeks prior to the exhibit that opened June 18, 2016.
The gallery's website also lists some exhibits in Basel and Dubai. We're probably not going to repeat those here.
Asymmetry, Robert Moreland, Jacqueline Surdell. March 12, 2022 — May 4, 2022.
Stare Into the Abyss, Jason Revok. September 25, 2021 — November 11, 2021.
Pooled, Natalie Wadlington. August 21, 2021 — September 18, 2021.
Turning Wrenches, Daniel Arsham. June 25, 2021 — August 7, 2021.
Light, Sam Friedman. February 27, 2021 — April 3, 2021.
We Used to Gather, Nina Chanel Abney, Marcus Brutus, Canyon Castator, Ryan Travis Christian, Timothy Curtis, Maja Djordjevic, Conrad Egyir, Shepard Fairey, Amir H. Fallah, Travis Fish, Jammie Holmes, Todd James, David Leggett, Tomokazu Matsuyama, Gisela McDaniel, Rebecca Morgan, Katherina Olschbaur, Pedro Pedro, Anja Salonen, Tylonn J. Sawyer, Willie Wayne Smith, Jess Valice, Paul Verdell, Natalie Wadlington, Tyrrell Winston, and Allison Zuckerman. July 18, 2020 — September 18, 2020.
Encore, Tyrrell Winston. February 1, 2020 — April 4, 2020.
Fantastic Voyage 1985 — 1987, Beverly Fishman. November 16, 2019 — December 21, 2019.
Manifest Destiny, curated by Ingrid LaFleur. July 20, 2019 — October? ??, 2019.
depersonalization-derealization, Jason Revok. April 6, 2019 — June 29, 2019.
January 26, 2019 — March 23, 2019:

Sheida Soleimani.
Conrad Egyir

October 27, 2018 — January 12, 2019:

Homemade, Scott Vincent Campbell, Jack Craig, Conrad Egyir, James Benjamin Franklin, Patrick Hill, Charles McGee, Martha Mysko, Patrick Quarm, Chris Schanck, Maya Stovall, curated by McArthur Binion.
Say It Loud, Tiff Massey. A gallery talk with Taylor Aldridge is slated for January 12 at 5:00 p.m. at 1301 Broadway.

Coping Mechanisms, several artists (including Greg Fadell and Scott Reeder). September 8, 2018 — October 13, 2018.
Xeriscape, Nina Chanel Abney, Rosson Crow, Beverly Fishman, Tschabalala Self, Wendy White. June 23, 2018 — August 25, 2018.
Buscando América, Carlos Rolón, and Bar Texas, 1971, Cassi Namoda. April 7, 2018 — June 2, 2018.
Margo Wolowiec, Willie Wayne Smith. February 3, 2018 — March 24, 2018.
Machine Show. October 28, 2017 — December 23, 2017.
Loiza, a sculpture installation by Carlos Rolón in the gallery's outdoor exhibition space. August 25, 2017 — ???
From Ripe to Rot, A. J. Fosik. August 19, 2017 — October 7, 2017.
The Size of the Fight, Patrick McNeil and Patrick Miller. June 24, 2017 — August 12, 2017.
Position, Kelsey Brookes. April 27, 2017 — June 10, 2017.
Love Songs, Sam Friedman. February 11, 2017 — April 13?, 2017.
Beverly Fishman and Thrush Holmes. December 10, 2016 — January 28, 2017.
The Light After. October 8, 2016 — November 26, 2016.
New Horizons, solo show for a grafitti artist. June 18, 2016 — September 3, 2016.
In Between. April 23, 2016 — June 12, 2016.
A group show including the infamous millionaire scofflaw Shepard Fairey. February 27, 2016 — April 10, 2016.
Alex Brewer. October 23, 2015 — February 13?, 2016.
Cleon Peterson. August 29, 2015 — October 15, 2015.
Shepard Fairey. June 6, 2015 — August 15, 2015.
Dave Kinsey, Cushion of Memory. September 2014 — October 2014.
Kelsey Brookes, Sleep: The Science and the Mystery. July 2014 — August 2014.
Sam Friedman, NYC. April 2014 — June 2014.
Exhibit Z, including photography by Sal Rodriguez, March 7, 2014 — May 3, 2014.
Disclosure. October 2013 — ???
Out With the Old. August 2013 — September? 2013
Algorithm, featuring Matthew Hawtin, James Collins and Franklin Jonas. March 3, 2013 — May 2, 2013.
Ordinary Things. November 2012 — January 2013.
For exhibitions under the old name, see Long-Sharp Curis.
On July 27, 2017, Library Street Collective presented a fundraiser, at $200 a ticket, for the Museum of Contemporary Art Detroit (MOCAD) at the Hawkins Ferry House.
The Bedrock-sponsored Charles McGee retrospective that opened on June 1, 2017 at 1505 Woodward was up until July 1, 2017. Gallery hours at 1505 Woodward were the exact same as at 1260 Library.
There was talk of Library Street Collective using the 1505 Woodward space again for art exhibitions, but nothing came of it. Now it seems to be the official permanent art exhibition space of the Carr Center.
On May 22, 2018, Library Street Collective provided logistical support for the unveiling of a 17-foot sculpture by a Brooklyn artist who goes by "KAWS" at the Compuware headquarters in downtown Detroit.
The Cranbrook Art Museum in Bloomfield Hills hosted Library Street Collective for a Shepard Fairey exhibit that opened June 16, 2018 and ran to October 7, 2018.
Doug Aitken's Mirage Detroit, a site-specific installation at 151 W. Fort (the old State Savings Bank site) opened October 10, 2018, and ran to February 10, 2019.
Rainbow City Roller Rink was simultaneously an art installation and indoor skating rink at 1001 Woodward. It opened November 30, 2018, and it was be available to skaters until January 27, 2019.
I don't know the exact dates for The Beach Detroit, an art installation at 1001 Woodward for much of 2019.
There was another collaboration with MOCAD in 2019.
There was also Iconoclasm, an off-site exhibit by Sam Durant, curated by Pedro Alonzo, at 1265 Parkview in Detroit. That one opened October 31 and ran to November 23.
External links
News
Alonso del Arte, "Detroit Party Marching Band now a tradition at Library Street Collective", Examiner.com, June 19, 2016.
Austin Boykins, "Futura Will Bring His Legendary Artistry to Detroit's Library Street Collective", Hypebeast, May 26, 2016.
Lee DeVito, "Cleon Peterson returns to Michigan for solo show", Metro Times, August 26, 2015.
Alonso del Arte, "5 recent Detroit art gallery moves and renames", Examiner.com, April 25, 2015.
Alonso del Arte, "Franklin Jonas evolves his pentagram art", Examiner.com, March 3, 2013.
Alonso del Arte, "Long-Sharp Curis is now Library Street Collective", Examiner.com, November 4, 2012.
Reviews
No reviews yet.