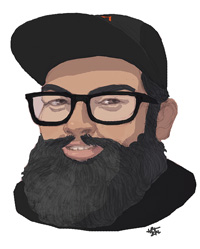 Portrait of Sal Rodriguez, drawing by
Kelly Guillory.
Home > Artists > Photographers > Sal Rodriguez
Sal Rodriguez
Every once in a while a major talent flies under the radar. Sal Rodriguez is one such talent. An internship at WDIV led to his being a very dependable photographer of events at art galleries downtown and in Eastern Market. Now he's starting to make his mark as an exhibiting artist in his own right. And he's also getting bylines in books.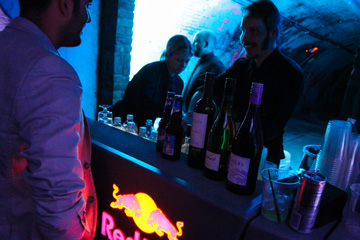 Sal Rodriguez has documented many openings at galleries in and around Eastern Market, like the Red Bull House of Art.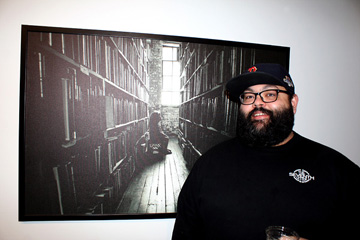 Sal Rodriguez with his photo at Inner State Gallery.
Current exhibition
Photography exhibit at M Contemporary Art. Opened December 8. There will be an opening reception on December 15, from 2:00 p.m. to 6:00 p.m. Slated to run to January 12.
Upcoming exhibitions
Various plans for 2019, 2020.
Working title: "Downtown", 2019, gallery TBA
Past exhibitions
One night pop up exhibition at M Contemporary Art. October 13, 2018.
At ESPRESS/photo, 200 Grand River, Detroit. March 31, 2018 – April? ??, 2018.
We Have A Dream at Inner State Gallery, January 25, 2015 – February 21, 2015
The Complete Compendium of Detroit's Art Galleries at 555 Gallery & Studios, August 1 – 16, 2014.
Exhibit Z at Library Street Collective, March 7, 2014 – May 3, 2014.
Capture: A Dialogue Between Paintings & Photographs at Corktown Studios, February 15, 2014.
External links
News
Reviews
No reviews yet.